Update to the Building Regulations.
The Building Regulations are being update as of the 15th June this year. The previous standards will apply for the next12 months.
Walters Architects attended a seminar led by the RIBA and Department for Levelling Up, Housing and Communities (DLUHC) to find out more about the proposed changes.
There are a couple of new changes to the existing documents and the introduction of some totally new ones.
All new Approved Documents (AD's) will impact on design. Architects should be aware of this from the outset of the design process.
The seminar reinforced the idea that it's best to refer to the latest information on the government website as theirs is usually the most up to date versions. A link to the up to date site has been provided at the end of this journal.
Our practice discussed the impact of these important changes internally and decided it was important for us to highlight the key changes; for our own learning and for those reading this blog.
Which Documents Have Changed?
AD F – Ventilation
DLUHC have simplified ventilation standards to make them easier to follow, removing wordy descriptions of ventilation methods and replacing them with terms that most will be familiar with.
For Dwellings:
Some change in ventilation rates
Considering the new air tightness requirements, standard solution of Mechanically Ventilated Heat Recovery (MVHR) or Air Source Heat Pumps (ASHP) can meet the new requirements
Mandatory air quality assessments
In non-residential
Trickle ventilators
CO2 monitors are introduced in office and high risk non-residential buildings
Mandatory air quality assessments
AD L – Conservation of Fuel and Power
The document update appears to be direct action towards climate change and aims at reducing CO2 emissions by 31% in residential buildings and 27% in other building. The long term goal is for 75% lower CO2 emissions for new homes in 2025.
Part L is now two separate documents. Set out in a familiar style, these are;
Dwellings (new and existing)
Non Domestic
To do this, the Government has;
Emphasised low carbon heating – electric or Air Source Heat Pumps (ASHP)
marginally reduced the minimum u-values for construction
suggested that triple glazed windows will become the norm
implemented a 'fabric first' approach which looks to improve insulation and airtightness where possible. This will result in much wider external wall construction and improve insulation and airtightness
450mm-600mm standard new external wall construction width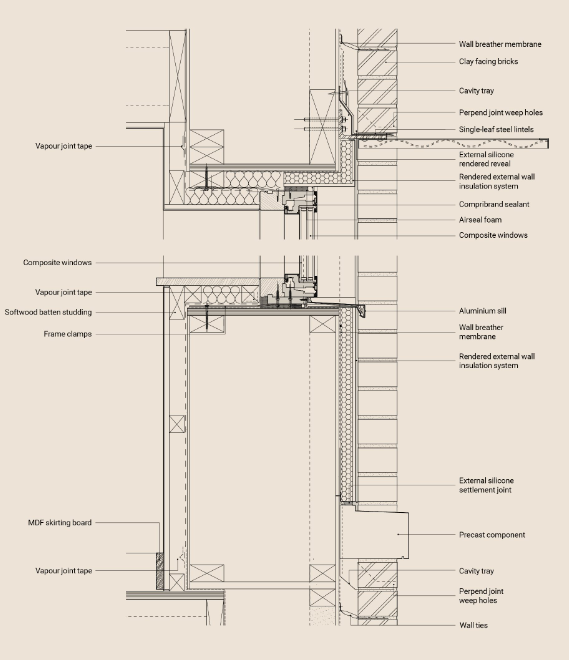 In non-residential
New specification items include:
Air Testing
A Building Regulations England Part L report and photographic evidence
For non-dwellings two Building Regulations UK Part L (BRUKL) reports now required; a "design" and "as-built"
New Approved Documents
AD O – Overheating
This section only applies to residential properties; dwellings; care homes; boarding schools; student halls.
Whilst the new document is slightly difficult, clarification is on its way.
To meet requirements, two calculation are to be required:
Dynamic Thermal Modelling Method (DTM)
Simplified Method
It will be best practice to employee specialist for the modelling process.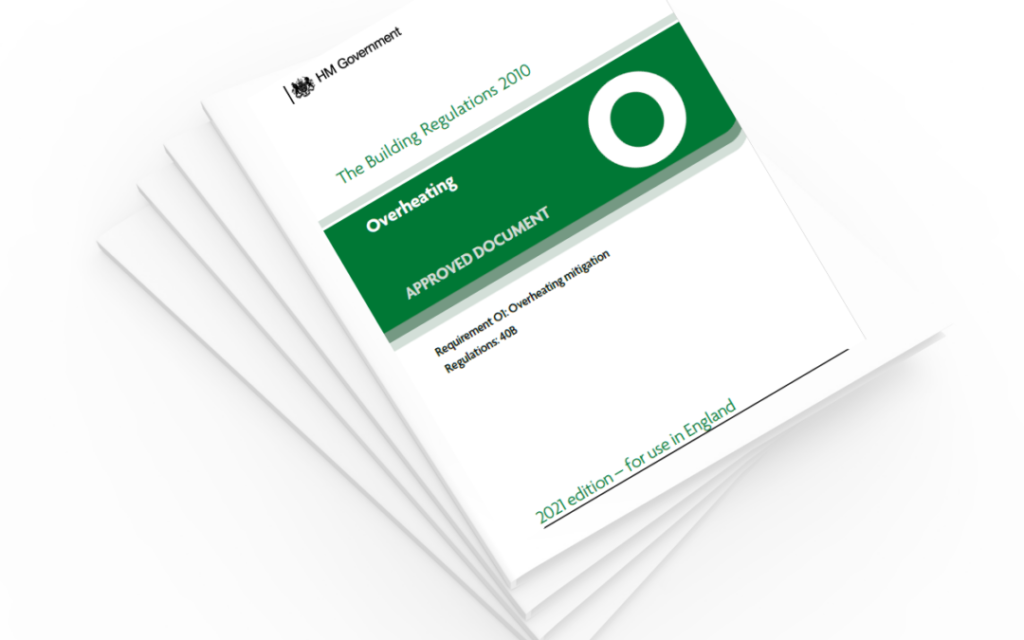 AD S – Infrastructure for the Charging of Electric Vehicles
The new document for electric vehicle charging infrastructure and future proofing new developments:
Every new home with associated on-site parking is to have an electric vehicle charge point
Existing domestic buildings with 10 parking spaces, are to have one charge point point dwelling with associated parking and cable routes in all spaces without charge pointsN
Buildings with more than 10 parking spaces are to have one charge point and cable routes for one in five of the total number of spaces
Existing non-domestic buildings, undergoing a major renovation, with more than 10 parking spaces are to a minimum of one charge point and cable routes for one in five spaces.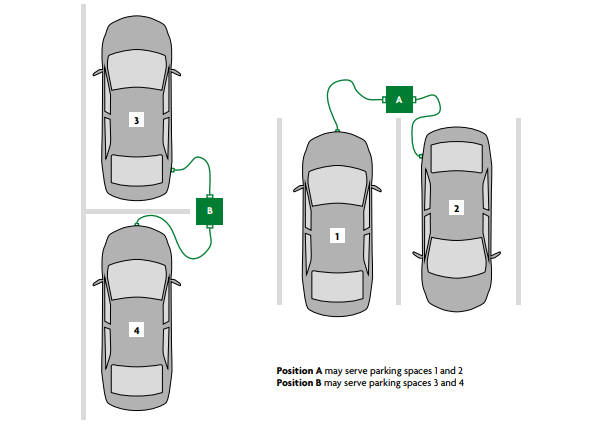 Actions (A) and Concerns (C)
C: Limited dialogue on Embodied Carbon
A: Government Action on Embodied Carbon
A: Use Gov.uk for most up to date documents
C: Cost implications for architects, clients and contractors
A: Revaluate fee structure for Building Control Approval related work
C: How will RIBA respond to the changes in terms of the RIBA Plan of Works?
A: Consider overlapping the planning and building control stage of a project where necessary
Conclusion
In many instances, the changes do appear to move the industry in the right direction. Any issues are being addressed with proactive and responsible governance.
Part M shall be updated soon. This includes raising Accessible Housing Standards.
If those reading have any questions regarding Building Regulations, please do not hesitate to get in touch and we will do our best to resolve any concerns or queries.
For Approved Documents and Building Regulations related queries use info@waltersarchitects.com and for any other queries use 0116 254 1830.
Please take a look at our website if you have a project that we may be able to help on.
External Links