Commercial Architecture in Leicester
When discussing services with our existing clients we are sometimes surprised to learn they didn't realise we assist with the design and construction of commercial buildings. Most think we only provide services associated with domestic appointments and, in particular, Listed Buildings or properties within Conservation Areas.
Truth is, Walters Architects Leicester have always been involved in industrial units, trade parks and Masterplans. We enjoy the process of working with a variety of different commercial and industrial clients, understanding their needs and delivering their warehouses, service stations and offices. These building types, often affectionately known as 'sheds', can be a real challenge for our architectural and project management team because the main objective is to always maximise the commercial aspect of the site/building whilst being specific to unique and individual requirements. They are not overly concerned with aesthetics. That said, commercial projects can be attractive and are very interesting because they're either very specific or extremely vague. A commercial hydrogen faculty is a lot more exact than a speculative 'for sale' trade park building.
The Delivery Process –
There are different ways of procuring a commercial building but the most popular is via the Design and Build (D&B) route. Whilst Walters Architects prefer the 'Tradition' form of contracts (Royal Institute of British Architects Contracts or Joint Contract Tribunal) we are also happy to accommodate our clients in the D&B process. We won't go into too much detail about contracts in this post but the fundamental differences between these two types of contract are control over design.
D&B allows the contractor to make their own assumptions or contribute to the design, a Traditional Contract depends on all information being provided to the Contractor before the construction phase. The former means the client can save on design fees but they, inevitably, lose control over detail. The Traditional route gives the client total control over design decisions being made before the contract prices the project.
Most commercial schemes are delivered via D&B because detail and design are sometimes considered less important than practicality. In a 'one off' design for a private appointment (specific facility for example), the client may want total control over all designs so a Traditional contract is more appropriate.
It is really important to know which Procurement method a client should adopt from the outset as it affects all professional fees and the approach to delivery. Walters Architects try to understand this requirement as part of the feasibility stage and develop a detailed brief as soon as possible.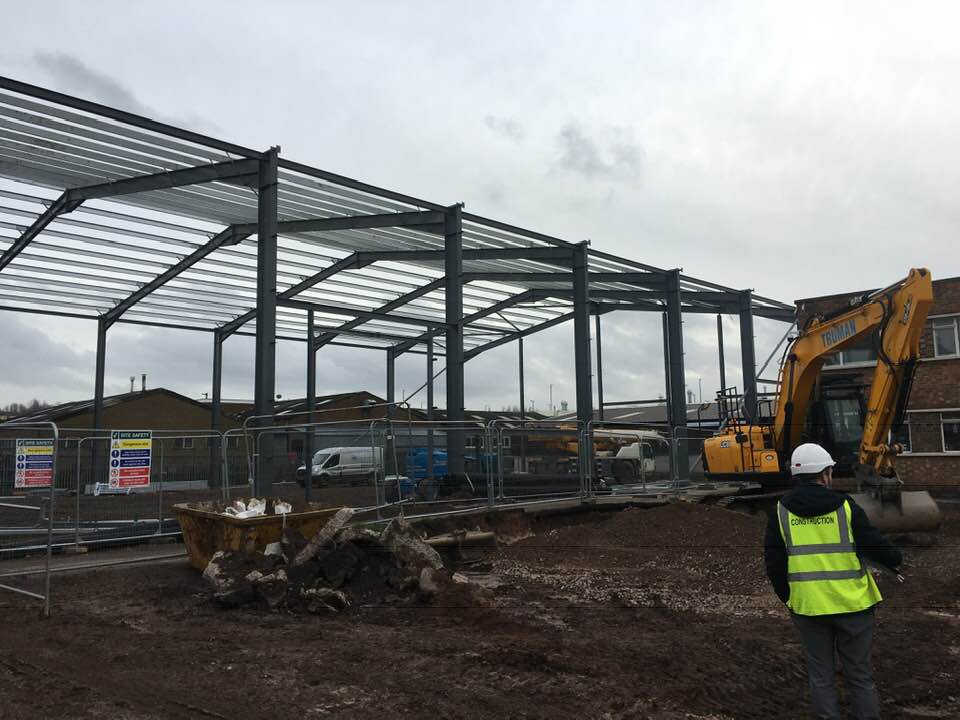 Type of Commercial Clients –
Commercial and Industrial clients come in many guises and Walters Architects have been approached by a number of companies with many differing requirements. We have designed and delivered, Equestrian buildings, agricultural buildings, storage facilities and office suits. Our clients vary from world-beating performance car manufacturers and national fast-food chains to a 3 man software organisation and sole trader waste management company.
Usually, an individual private commercial client will want a building to meet their own specific requirements, associated directly with their business practice. Other professional clients want larger schemes for 'Speculative' buildings that can be built and sold on or rented out as part of a larger business or investment strategy.
Our company work with both types of enquiry and can produce a single shed or a full 'mixed use' development scheme over a larger site to be completed as a single project or a phased masterplan. The latter, larger projects can last years and involve lots of different consultants. So again, the way of procuring the project is of paramount importance.
Building Uses –
As a practice, Walters Architects enjoy working on trade park schemes because they are usually more interesting and diverse. The best approach on a larger scheme is to usually mix the building uses to maximise the possibility of resale or rent. The most popular mixes are B2 (general industrial) & B8 (storage and distribution).
Whilst the building designs are usually straight forward the key part of our role is coordinating all the other disciplines in order to bring the project together. This involves a lot of coordination. This aspect of a project can sometimes be overlooked but bringing a scheme of some size together is a very real problem. Walters Architects will run the project and act as the client's representative or agent but during a Design & Build Contract, a specific Project Manager (separate from the architect) must be employed under the terms of the contract.
Our practice has worked with a number of PMs (Project Managers) and enjoy the process. We are also happy to recommend PMs to clients if, after the brief stage, it is better to run the project as a Design & Build contract. It is always best to get the PM on board as soon as possible and their role is of paramount importance to reducing construction costs.
Appointing Architects for Commercial Projects –
In the early stages, these commercial projects are no different to any other project. Our practice needs to establish the client's requirements and suggest the most efficient and cost-effective way of delivering the project. The key decisions are: 10 Procurement method, 2) infrastructure, 3) personnel and 4) coordination. These factors fundamentally dictate the approach of the design and the fee structure for the consultants involved.
Our suggestion would be for clients to contact our office (or a PM) with their proposal, take advantage of the initial free consultation, see if we are all a good match and then decide the best way to progress.
Once an approach is established we can confirm our and other consultants' fees, timescales and third party involvement. Walters Architects work within the Royal Institute of British Architects structure Plan of Works so a timeline may also be evolved.
Once we have established costs and time scales the project can start to gain real momentum.
Get in Touch –
If you'd like to know more about Commercial or Industrial projects you can give the office a call on 0116 2541830 and we are more than happy to talk through individual requirements or visit our Industrial page www.waltersarchitects.com/industrial we'd love to hear from you.